Well, not wax as such, the correct term for this is sugaring. Anyways, with summer approaching the urgent need to defuzz arises. Shaving is a PITA, hair removal creams are messy and stinky... and
waxing
is expensive - though not if you make your own! I'll tell you how, and I promise it works!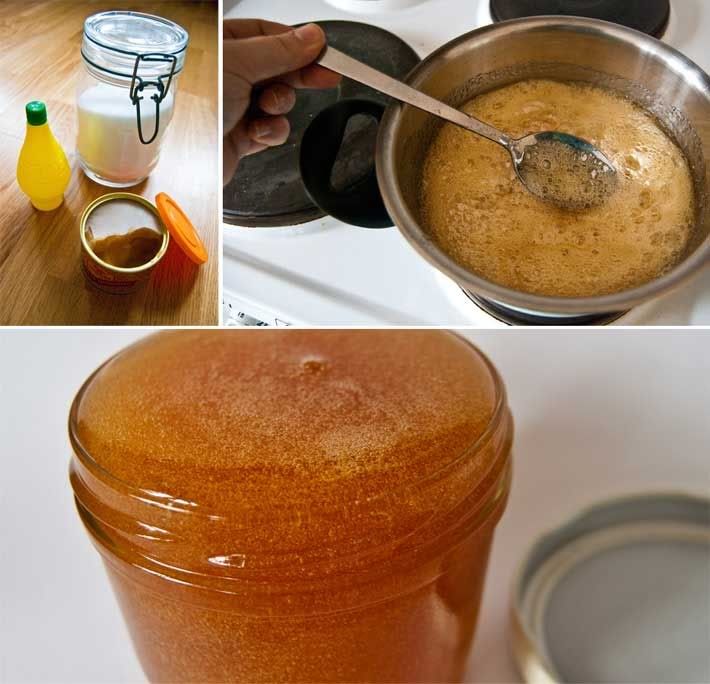 You'll need:
200g of sugar, a heaped tablespoon of honey (not the runny kind), approximately 75ml of lemon juice, cornstarch (for dusting your skin) and strips of cotton fabric.
Place sugar, honey and lemon juice in a saucepan and bring to a rapid simmer. Stir it all the time until it is a medium caramel colour. Allow to cool for a couple of minutes, then transfer into a container and allow to cool further. You will notice it thickens as it cools.
If the cooled sugar mixture seems too thick to spread on your skin, you can reheat it a little, but...
be careful as it can get incredibly hot and we don't want anyone scalding themselves here!
The idea is to have smooth legs for summer, the blistered look is not so cool! Anyways you want it to be runny enough to be able to spread thinly - you could also reheat it completely and add in a bit of water or more lemon juice and then allow to cool again. Experiment.
I am gonna hazard a guess that you probably won't want to see my pasty and hairy legs, so no pics of the next steps I'm afraid! If you've waxed your legs before this procedure will be familiar: Dust your skin lightly with cornstarch. Then, using a spatula, spread a thin layer of sugaring onto your skin in the direction of hair growth. Take a fabric strip (I used an old bedsheet and cut strips approx 10 x 30 cm) and smooth it down well on top of the sugaring - also in the direction of hair growth. Take a deep breath, brace yourself, and rip the strip off against the hair growth in one quick move. Repeat until no hairs remain.
Because this is just sugar and lemon juice, the remains wash easily off the skin (handy if you find you want to chicken out after the first strip) and you can soak the used fabric strips in hot water for a while until the goop has dissolved, then rinse, dry and use again.
I also wax my eyebrows rather than plucking - much quicker! Just use a smaller spatula for accuracy, and smaller fabric strips. Unless you're a sucker for pain, I won't recommend attempting to do your bikini line or armpits (don't ask me how I know!) - I think that's a job best left for the professionals!
The sugaring can be stored for aaaaages in an airtight container.