Ever since I got my new MacBook I have been itching to make one of these. Now with the arrival of my beloved Esme, I finally could. And I thought I'd share with you how I did it, in case you want your own!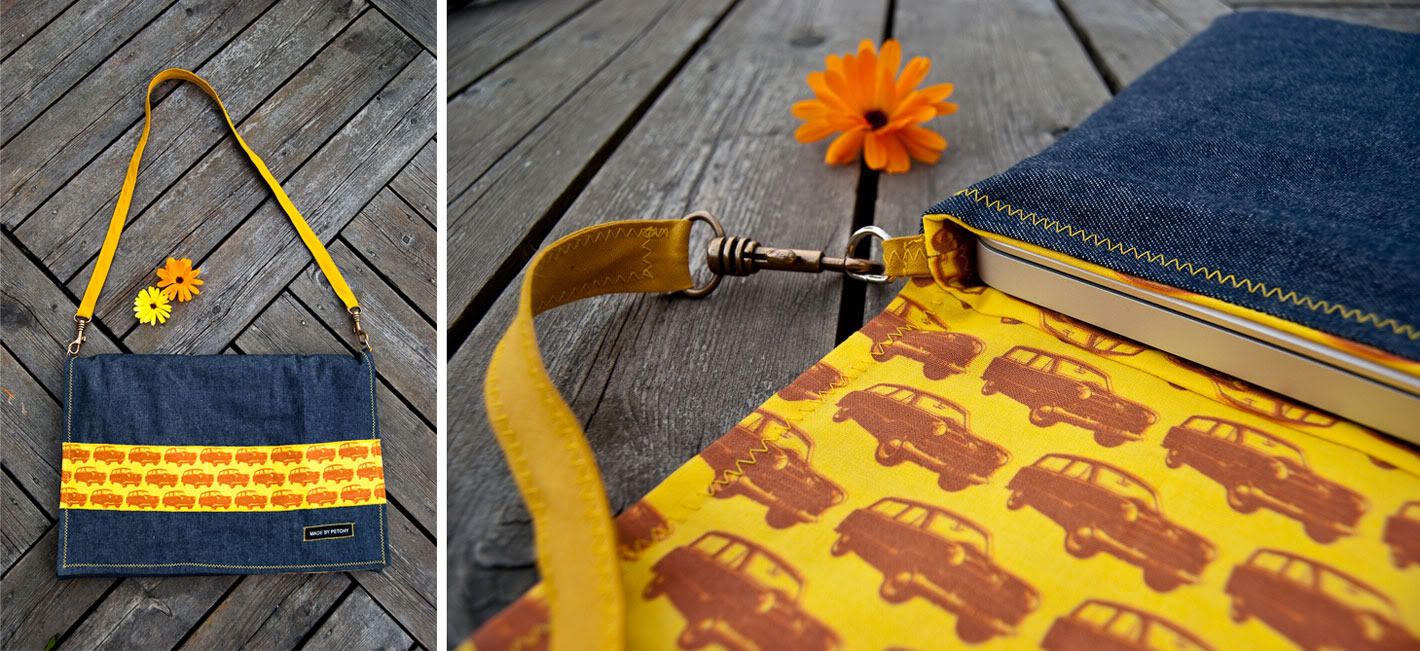 Before we start:

All the images can be clicked for larger version, and because it was really hard to take step by step pictures I am going to make a line drawing for you as soon as I have time!
You will need:
Two fabrics of your choice ♥ small zipper ♥ 2 x D rings ♥ 2 x carbine hooks ♥ bias tape ♥ thread ♥ scissors or rotary cutter and mat
Not all laptops are created equal, so you're going to want to take a few measurements before we start. You need to know the width (W), depth (D) and height (H). You also need to determine your desired seam allowance (SA), in my case 8mm. You'll use these to figure out the dimensions of your fabric pieces. The formulas are as follows (with the measurements of my 15" MacBook Pro in brackets behind):
MAIN BODY PIECES
Width: W + H + 2xSA
- (36.4 cm + 2.4 cm + 2x0.8 cm = approx. 40.5 cm)

Height: 2xD + H + 2xSA
- (2x24.9 cm + 2.4 cm + 2x0.8 cm = approx. 54 cm)
FLAP PIECES

Width: W + H + 2xSA
-
(36.4 cm + 2.4 cm + 2x0.8 cm = approx. 40.5 cm)

Height: D + H + 2xSA -
(24.9 cm + 2.4 cm + 2x0.8 cm = approx. 29 cm)
Hopefully this makes sense? (The diagram I am gonna put up should hopefully help too.)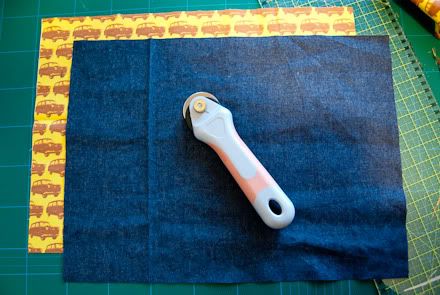 1.
Cut the main pieces for the main body of the bag; one from the outer fabric and one from the lining fabric.
2.
Do the same for the flap; one piece from the outer fabric and one from the lining fabric.
3.
Fold the main body pieces in half, right sides facing, and pin into place. (You know me by now, I say pin, but really I don't for easy pieces like this - I am too lazy!)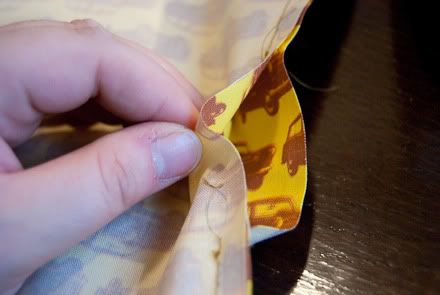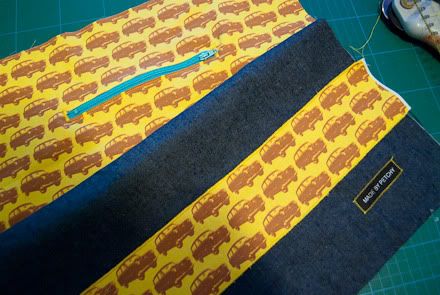 4.
Sew up the two short sides on both the outer and the lining. Snip the corners.
5.
Remember to leave a 5 cm gap on one side towards the bottom of the lining. This is gonna be where you'll turn the whole thing right side out afterwards.
6.
Now is a good time to decorate the flap. I have used some of the lining fabric to add interest. If you want the flap to double as a pocket for your power cord, you will need to insert a zipper into the lining fabric. Though I am not as scared of zippers as I used to be, there are people out there who explain this much better than I ever could, so for this step I refer you over to
Sew Mama Sew
for this great step by step
zippered pocket tutorial
.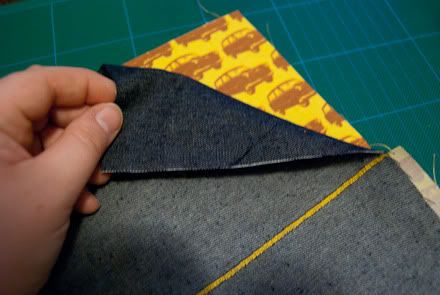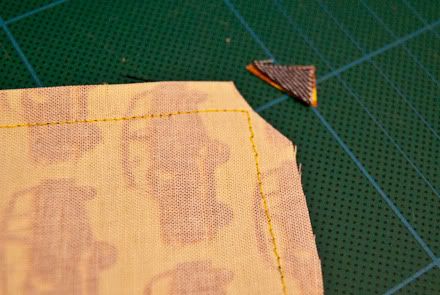 7.
Place flap pieces right sides together and sew around the sides and bottom, leave the top bit open.
8.
Snip the corners and turn right side out. Iron well.
9.
Topstitch around the flap.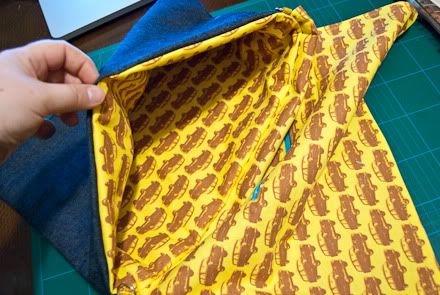 10.
Place the lining inside the outer, right sides facing. Sandwich the flap between the two layers of fabric, lining up all the raw edges and pinning as you go. (Yes, this is a scenario where even I pin!) Also use some ribbon or webbing to attach the D-rings to each side seam in the same manner (How could I forget to snap a pic of this?! Sorry...)
11.
Stitch all the way round, and turn the whole thing right side out through the hole in the lining. Sew that hole closed.
12.
Put the lining inside the bag, iron and topstitch around the edge.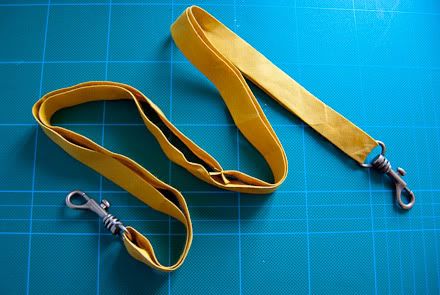 13.
Almost done, we just need to make the strap! I was gonna make this in the denim fabric but there wasn't enough left, so I used some bias binding instead and did a very easy version: I threaded the carbine hooks onto the binding and sewed it to make a loop.
14.
I then flattened the loop...
15.
...and topstitched around the edge. I made my strap about 80 cm long, but you can of course make it a length to suit you!
Now just clip the strap onto the bag and you're good to go! While you're out and about toting your laptop around in your fancy new bag, you might want to surf the net... I am just taking the opportunity to share this
really cool thing my friend introduced me to
- software to turn your mobile phone into a wireless router! I was really impressed last weekend when we tried it, and NO I am not being paid to say this - the geek in me just thought it was really neat! Direct link for the non-norwegian speakers
HERE
.