If you're anything like me you have a pile of old and unworn t-shirts at the back of your wardrobe. Stained, too big, too small... whatever reason. Here's a quick and very easy way to give them a new life - make headbands: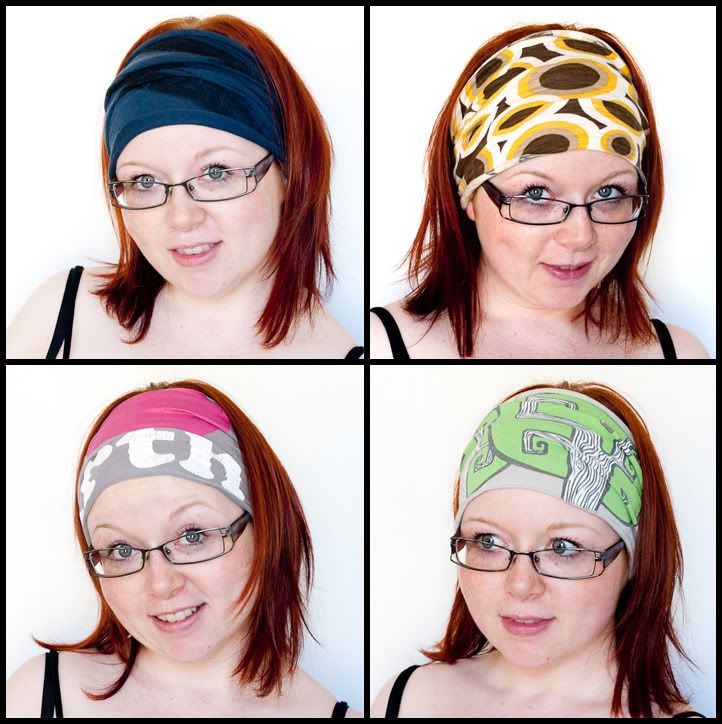 If you read my
Flabfight
blog, you already know I have been bitten by the running bug. I've been wearing a headband to keep the hair off my face and to keep my ears warm in the chilly spring air. But I only had one. and it's made from wool and was starting to get a tad too hot now that spring has arrived. So I decided to make some more, and to make use of some of those old t-shirts in the process. Any soft and lightweight jersey fabric will work for these though, if you don't have any old tees. The good thing about these is you can also wear them round your neck if you want something to keep the chill away.
These are so ridiculously easy to make, you don't really need instructions at all. But anyways: Take a 25 x 50 cm piece of jersey fabric, fold it in half to make a 25 x 25 cm square. Take a look at the diagram below - cut where I have marked red lines (this takes some of the bulk out of the back of the headband, so you don't get an annoying lump at the nape of your neck) and sew where I have marked in green. That's it. The fabric won't fray so you don't even need to finish the edges, unless you want to of course.
I made all four in less than 10 minutes - how's that for instant gratification? It doesn't get much faster than that, eh?