OK, I know you all like a little game... who wants to play?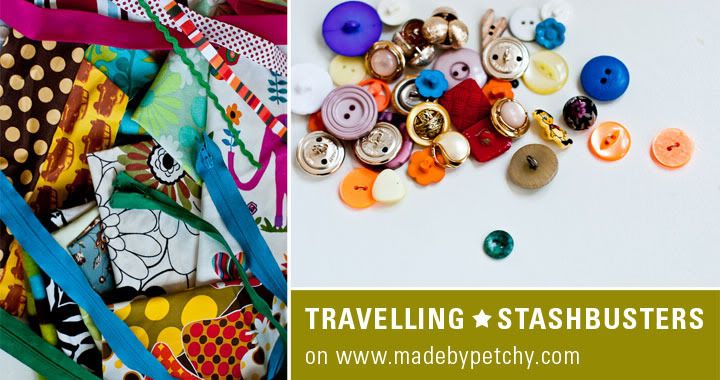 I'm clearing out stuff before my move, and realised my stash of fabric scraps and leftovers was nothing less than outrageous. I've thrown away about a gazillion tiny little useless scraps. But there were still some that had potential... hmmm - what to
do
with them? I know... let's play TRAVELLING ★ STASHBUSTERS!
What I've done is this: I've taken fabric scraps of various sizes, bits of ribbon and old buttons... and wrapped it up into a kit. If you want to play, here's how it's gonna work:
You sign up for the game by emailing me your name and address. I will put your details into a spreadsheet, which you will get a link to upon registering. (Don't worry, I won't share the link with anyone who is not participating) I'll also give you a badge you can put on your blog. If you also send me your blog/website link I will list all the participants at the bottom of this post!

You will also need to join the TRAVELLING ★ STASHBUSTERS Flickr pool and/or Facebook group

On the 1st of October I will send the kit off to the first person on the list
When you receive the kit, you have one week to use as few or as many of the items in the kit as you like to make something fun and funky
Take photos of your item, and post them to the Flickr pool and/or Facebook group (This is mandatory - we all want to see what you've created!)
Replenish the kit with items from your own scraps/stash, so it contains the same amount of stuff as it did when you received it
Post the kit on to the person below you on the spreadsheet, and then email me to let me know, so I can update the spreadsheet - that way we'll all be able to follow the kit's journey!
New people can join at any point, and I will add them to the spreadsheet. Feel free to spread the word on your own blog/twitter/facebook - let's see how long we can keep it going!
We'll need a few ground rules:
To play, you must be willing to post internationally.
All participants have to post photos of their finished items in the Flickr Pool and/or Facebook group, otherwise all the fun is gone!
You must put at least the same amount of stuff

in

as you took

out

!
You must post the replenished kit on within a week of receiving it. You can take as long as you like to to actually make your item though, just take what you want from the kit, then pass it on
So... who's in? These folks are:
Oktoberleaves
/
File Under Misc.
/
Silvia
/
Fragaria
/
Sleepytime Sewing
Casa Fiore
/
SiriPiriSiri
/
Tigerpus
/
Tanjas Traumberg
/
Mummybuttons
Duraznita
/
Bettsy Kingston
/
Thimbleberry Road
/
Time Optimist
/
Sunshine Wave
Somewhere Along a Winding Path
/
Indigorchid
/
Willywagtail
/
June
/
Simply Loverly
The Golden Willow
/
Funkyhulagirl
/
Babyfotomamma
/
Pellybutton
Thunderclouds and a Furrowed Brow
/
Barefoot in Blue Grass
/
Dee's Dabblings
/
Sherry's Simple Blog
It's an Alien Life
/
Sugarfloss Designs
/
I am Robyn
/
Pineapples & Artichokes
My Corner of Scotland
/
Nicki Paints
/
BoBoLoo